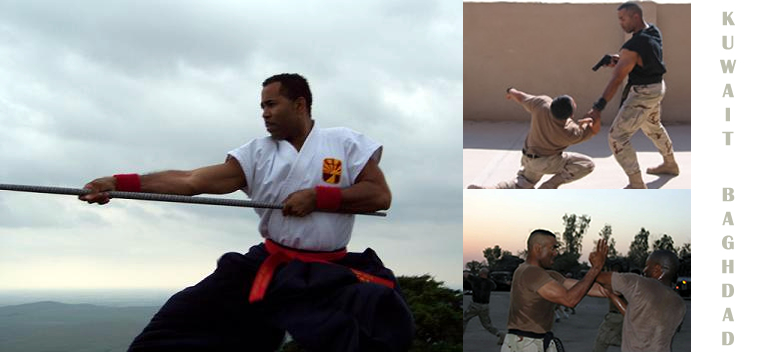 Thomas L. Felder, Hanshi, 9th Degree Black Belt
Began his journey in the art of karate at the age of ten, as a result of frequent attacks by school bullies in Queens, NY. During his senior year of high school he began training in Wing Chun Kung Fu and later Tae Kwon Do. In 1981, Felder enlisted in the United States Army. After arriving at his permanent duty station he enrolled in the Chinese Goju school of martial arts directed by Sensei David L. Wynn. Felder later earned his Black Belt in Chinese Goju and relocated to Germany in 1983, where he resided over eight years. During this tenure he opened and directed Chinese Goju schools in the cities of Germersheim, Worms and Dexhiem.
While in Germany Felder became an active member of TEACH's Universal Martial Arts Association (TUMAA) founded by Master Freddie L. Giddens (Teach). Felder earned his 2nd Degree Black in Chinese Goju by Renshi David Wynn in Bremerhaven and earned 2nd Degree Black Belt in Tae Kwon Do presented by Master Michael Dials in 1984. Master Freddie L. Giddens a.k.a. "TEACH", trained Felder on coordinating and directing combined martial art tournaments for the Army MWR in Europe, which led to Felder's 3rd Degree Black Belt awarded by Master Giddens after coordinating the first annual Open German/American martial Arts Championship in Worms, Germany under TUMAA. Felder's successfully launched three Open German/American Martial Arts Championships in Worms and Dexheim Germany prior to combat deployment supporting Operation Desert Storm.
During Operation Desert Storm and Operation Provide Comfort, Felder directed a Close-Quarters Hand-to-Hand Combat School that combined over a hundred Army and Airforce combat soldiers at Incirlik Airbase, Turkey. Felder relocated to Ft. Bragg NC in the latter of 1991, where he would open two Chinese Goju schools in Fayetteville, NC, also having the distinct opportunity to meet and earned his 4th Degree Black Belt by Kyoshi James E. McCall, which was Sensei Wynn's teacher. In addition, Time Warner Cable accepted Felder's proposal to host his own cable show entitled "Self Defense for All Ages", which aired weekly. Felder, also received lifetime membership certification as an Armed Forces Close Engagement Tactics Instructor, by the President of Armed Forces Combative, Professor Leonard C. Holifield, which ramped his 40 hour training certification program in Close Engagement Tactics for Airborne and Special Reactionary Forces, to include training soldiers in Haiti and Panama.
Felder relocated to Korea in 1995 and opened a Chinese Goju school at Camp Casey. During this year period he was a headline on AFKN evening news for his 2nd Tank Combined Martial Arts Training Program consisting of American and Korean (Katusa) soldiers. He was a special featured demonstrator during the Camp Casey Independence Day Expo and director of the MWR Armed Forces Women's Self Defense Seminar 1996. Felder returned to Fort Bragg and opened Chinese Goju schools at Pope AFB and Rosehill Road, Fayetteville NC. Felder and Kyoshi McCall later founded the Golden Dragon Karate Chi system, where they would train, teach and compete in tournaments together, also Felder would often have Kyoshi McCall appear as special guest on the cable show. Kyoshi McCall promoted Felder to the rank of 5th Degree Black Belt and they later coordinated and directed the 1st Annual Open Golden Dragon Martial Arts Championship at Pope AFB in 1999. Felder's return to Germany in the year 2000, where he opened an Academy in town of Neubruecke. Later in 2000 he deployed for a hostile engagement tour to in Kosovo, where he opened a large martial arts academy training over a hundred soldiers, and directing the first martial arts tournament in hostile territory for the Morale Welfare and Recreation (MWR). Mid 2001, Felder met with Grandmaster Ron Van Clief and Soke Glen Perry in Cuernavaca Mexico and made the final decision of returning to Chinese Goju. at 6th Degree Black Belt. On September 2001, Felder was nominated for the Word Hall of Fame by Grandmaster Ron Van Clief, which he was inducted on September 2001 by the World Head of Family Sokeship Council (WHFSC), as Master Instructor of the Year.
In January 2003, Felder deployed for a 4th hostile engagement/combat tour "Iraqi Freedom", which he ceased every available opportunity to train combat soldiers in the hot desert of Kuwait, as well as opening an Armed Forces Martial Arts School in Baghdad trained hundreds of soldiers. During this deployment Grandmaster Ron Van Clief announced Felder's 7th Degree Black Belt promotion and Lifetime membership in Chinese Goju via email. Felder returned to the United States in latter of 2003 and established a Chinese Goju Academy in Lawton Oklahoma. He has since directed MWR Self Defense Workshops at Fort Polk, LA, Fort Monmouth, NJ, Lakely Navy Base, NJ, Fort Sill, OK and New York. In addition, Felder received first hand training in martial art choreography by Grandmaster Ron Van Clief during a movie shoot in New York. In 2006, Felder was promoted to 8th Degree Red Belt and appointed as Soke of the Chinese Goju International by Grandmaster Ron Van Clief. Later in 2008, Felder was directed, "The Ron Van Clief Cup Martial Arts Classic" held in St. Thomas US Virgin Island, where he also received the Master in Action Award. On December 24, 2008, Grandmaster Ron Van Clief promoted Felder to the rank and title of "9th Degree Red Belt, Soke, Hanshi" in Chinese Goju with instruction to develop a contemporary system, which gave birth to "Tensho Goju" in 2009. Later in 2009, Felder was presented the "Founders Award" for Tensho Goju by the worlds prestigious Grandmasters council (WHFSC), for official global recognition.